Blog Posts
Bacteria with Benefits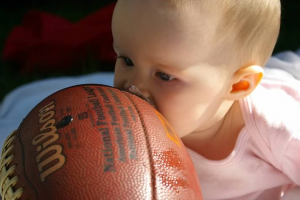 A new study about germs and babies has been getting a lot of buzz this week. It turns out cleaning your baby's pacifier by putting it in your mouth may have health benefits. The study showed that babies of parents who regularly cleaned pacifiers in their own mouths were less likely to develop allergies, eczema, signs of asthma and high levels of a particular white blood cell that rises to cope with allergies and other illnesses than infants of parents who rinsed or sterilized pacifiers.
But it is a good reminder that early exposure to bacteria can be a good thing. More and more we're learning about how bacteria from our bodies helps our babies: childbirth passes on beneficial bacteria to babies, as does breastfeeding and skin-to-skin contact. As one of our childbirth educators, Meredith Fein Lichtenberg says, "You're meant to transfer the funk and goop that live on and in your body to your baby — it's not gross, it's good for them. That's what kissing and hugging do!"
The take away?
There's no need to sterilize bottles and pacifiers nor carry Purell around in your bag. Hand sanitizer has been proven somewhat helpful in hospitals and medical settings, where there can be more than trivial bacteria lingering around but even then, studies show that hand-washing is considered superior. Plus hand-sanitizer has some ingredients that can irritate your baby's skin.) Don't be afraid to go out with your baby, even from an early age.
And kiss your babies.
—