Newsletter
Skip to table of contents
Family Practice: Dr. Tholany Becomes a Mom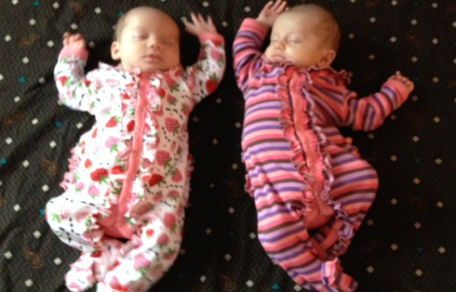 Dr. Maryann Tholany, whose been a vital part of our Brooklyn Tribeca Pediatrics practice since 2007 gave birth to her first babies, twins, Carola and Shoshana, on New Year's Eve. Between feedings, Maryann gave me the lowdown on what it's like to be a pediatrician experiencing motherhood for the first time. The sleep, she explained, "it's like being in residency, that bell rings and you're up!" What has she learned?
"I get it now," she said.
"I always tell parents of newborns, 'don't worry if your baby breaths heavily for 10-15 seconds and then calms down.' Now, at 2 am, I see them huffing and puffing and I have to tell myself, 'don't worry.' But its is alarming," she laughs.
"These weeks have really given me an understanding where that nervousness comes from. Like clipping nails! I also talk to parents about not obsessing over numbers but I do find myself curious about my babies' percentiles. I know they are healthy and fine. In a way, I believe even more in the Tribeca Pediatrics philosophy of developing trust and confidence and not getting bogged down or obsessive but I can also understand the fascination with numbers! I don't feel all that sharp so writing things down helps."
As for feeding twins, "Feeding is here is more medicalized than it was for relatives of mine in India–ten minutes on this breast, etc– maybe that's part of what makes it hard. You don't just sink into and feed your babies instinctively." She adds that in India its customary for new parents to have an incredible amount of support from their extended families. Her Brooklyn apartment is very full at the moment, but the help, she says, is priceless.