Blog Posts
How to Raise a Good Dad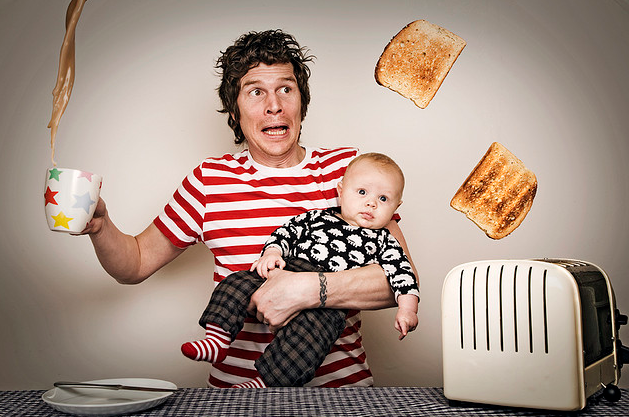 Matt Schneider is the co-founder of
NYC Dads Group
, which has been featured in the NY Times, HuffPo and on
The Today Show
, and one of the leaders of our
New Dad Bootcamp
here at Tribeca Parenting.Good Dad
His classes are becoming more and more popular, partly due to shifting ideas about parenting roles, but also because they are immensely practical. Stereotypes are shattered, norms are upended… and a sloppy swaddle is corrected.
I asked Matt some questions about his dad's group and challenges particular to new fathers. Here's what he had to say:
Why a dad's group?
Believe it or not, many mom groups don't welcome or specifically don't allow dads to participate, so we were encouraged to start a group for dads. We started as a group for at-home dads, but quickly realized that there are a lot of working dads in New York City that are able to spend time with their kids during the week, so we now have nearly 700 dads of all stripes. More recently, we realized that there are no classes for expecting dads, so we started our New Dad Boot Camps with Tribeca Parenting.
How is a dad's group different from a mom's group?
I'm guessing that our group is not that different from a moms group. We get together– sometimes with our kids, sometimes without. Conversations follow the interests of those gathered– sometimes it's sports or politics, other times dads could be sharing a recipe or their advice on a trip to Disney World. We've had workshops a variety of topics such choosing a pre-school, healthy sleep practices, child safety, and even a potty-training webinar. People have told us that we're less judgmental of each other as parents than are moms. People also think we're more relaxed than moms, but I've met plenty of helicopter dads hovering over their kids every move.
What's the number one challenge for a father who takes care of the kids full-time?
Isolation. For many dads (and moms), it is very difficult to transition from a career to being an at-home parent. Being at home with a child can be wonderfully joyous and fulfilling, but it can also be woefully boring. That's one of the reasons we wanted to start the group– parenthood is a lot more fun when you're with other guys.
How are the first months of being a parent different for mom and dad?
It depends on the situation. We believe moms and dads can be equally caring and capable parents, even in the first few months. Few of us have any expertise when we become parents– we learn most of it on the job. When moms and dads are able to share parenting, they have an opportunity to learn together, to lean on each other, and to trust each other. In most families, however, mom takes on or is forced into the role of "lead" parent– she reads the books, she takes the classes, she talks to her friends, and because she's home, she gets the practice. Mom's way becomes the "right" way, and dads struggle to catch up. Dads, especially working dads, need to jump in and make sure they are developing their parenting skill set as well.
Give me one tip for moms to get dads more involved?
Leave. Don't leave instructions. Don't leave a to-do list. Let him figure it out . . . and he will.