Blog Posts
Our Pediatrician on the Upper East Side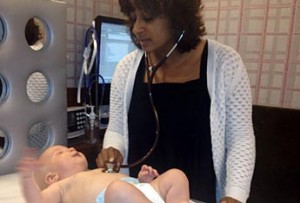 This week we touch base with Dr. Sangita Modi from our East 62nd Street office to glean a little wisdom about pediatricians, weight percentile anxiety, kids in New York City and how to build confidence as a new parent. I hit her with a few key questions and here's what I learned:
What do parents tend to worry about, but shouldn't?  
Weight percentiles! The big picture is more important when assessing growth and development.
Best part of your day working with families? 
The amazing stories that children tell. You could be having the worst day, but the smile on a child's face makes everything better.
Advice you find yourself giving out all the time?
Babies cry. It's their means of communication.
Tips for helping young kids feel positive about "going to the doctor"?
Doctors are also "mommies and daddies."
What do you love about your office's neighborhood?
The sounds of the city.
What is your take on raising kids in the city?
It's not where you raise your children but how you raise them.  City children tend to be exposed to more culture and diversity, which is a great thing.
Any advice for first-time parents coming home from the hospital? 
Trust your instincts.