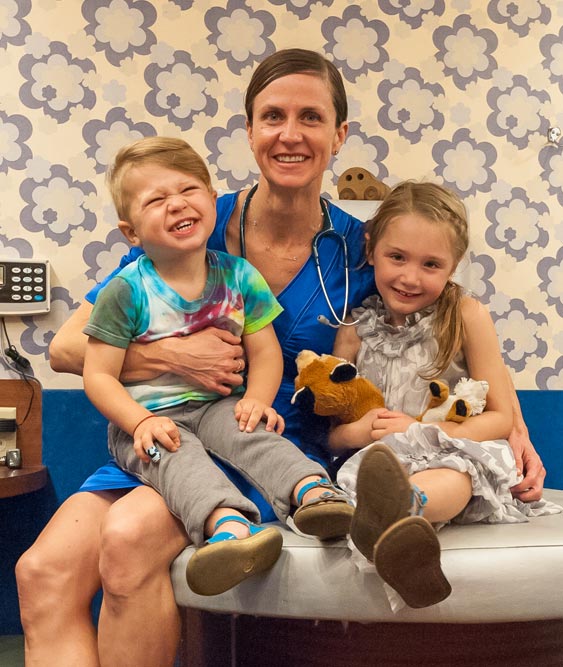 Bridget (Bridie) Hatch, PNP
-Undergraduate: Columbia University, New York, NY
-Graduate: Columbia University, New York, NY

Q & A with Bridie Hatch, PNP

How did you get into pediatrics?
My mom worked with severely developmentally delayed children with complex medical needs and as a child I often joined her in events, summer camps, and after school activities with these amazing humans. I also had the opportunity to volunteer for the local pediatrician and loved all my experiences there. That got the ball rolling but was only the beginning of the journey! I then volunteered at Santa Barbara Cottage Hospital, in their Pediatric ED and on the Pediatric floor after graduating from college. I rocked, sang to, and played with sick babies and kids. It felt like home. I subsequently worked as a phlebotomist in the same hospital with all ages, but I found that children, not yet jaded, carried so much hope and inspiration.

Where did you grow up?
Ojai, California.

Where do you live?
Maplewood, New Jersey.

What do you enjoy most about working in your neighborhood office?
A sense of community, a sense of a medical home, a sense that your children are my children, that there are no "other people's children", a sense that we are here together with open dialogue and reciprocal respect while giving all these littles the very best that we can.

What keeps you motivated?
We may be the parents, the adults, but if we listen carefully, our children will teach us more than we could ever teach them. Their curiosity, intensity, and unbiased perspectives motivate and challenge us every single day.

What do you do for fun?
So much! I swim, run, bike, and make overly zealous healthy baked goods for my family. I sing, read, dance, play with my two littles Harlow & Tatum. I drink wine with my beautiful wife, Amy, and talk "shop" about our days to unwind. I like throwing pretty parties and hanging out in the backyard with friends.