THE TWO MONTH VISIT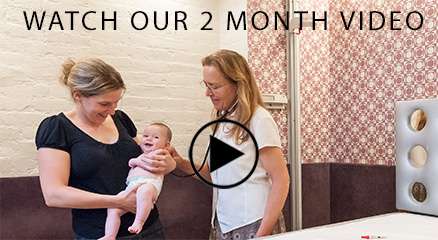 The Two Month Visit
At your baby's two month visit we will:
Take their height, weight and head circumference (your child will be used to this by now).
GUIDANCE
Development: Your infant will begin to smile spontaneously and directly at you. They will also lift their head up more when placed on their belly.

Feeding: Hopefully, breastfeeding is continuing to go well—it has become even easier and much less of a production. This is a very good thing, because breastfeeding less often is still a few months away, so trying to space out feedings is generally not worth the effort. If you have any questions, click here…

Sleeping: In 1994, when Tribeca Pediatrics first opened its doors, we recommended that parents begin sleep-training their babies at around the age of four months. However, to the universal delight, comfort, and sanity of our patients, we have discovered that sleep-training is even more effective if begun at two months. So, please be seated to read the following: In three days, your baby will be sleeping through the whole night (upwards of twelve hours!), falling asleep in the early evening and waking up with an adorable coo and a big smile at 7 AM. Yes, you read that correctly. Sleep training in three days, done. How do we do that? Find out here.