THE THREE MONTH VISIT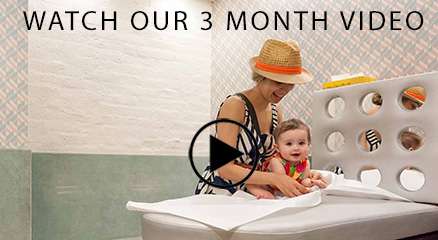 The Three Month Visit
At the three month visit we will:
Check your baby's height, weight and head circumference.
Give them the second Hep B vaccine.
GUIDANCE
Development: Your little one will begin "cooing" and making various noises at you. They will also start to look around the room.

Sleep: Most parents come to the three month visit beaming. As much as they were apprehensive, those who have tried our strategies are so appreciative of having recovered sanity after months of sleep deprivation. If you have not done so with your child for personal reasons, or simply because you don't have the heart to let them cry at night (which we totally respect), here is a friendly reminder: If your child does not sleep more or less through the night by now, chances are it will be more difficult for them to learn to do so. Most likely, you will have to attempt sleep training when your baby is able to call your name, which will be a more complicated process. Read on…

Teething: Those little white things you see in your infant's mouth aren't teeth. They are small gum bumps that are normal in all babies' mouths. You may wonder if the hands-in-the-mouth or constant drooling are symptoms of teething, but more than likely, they're not. Read about babies' gums and teething.