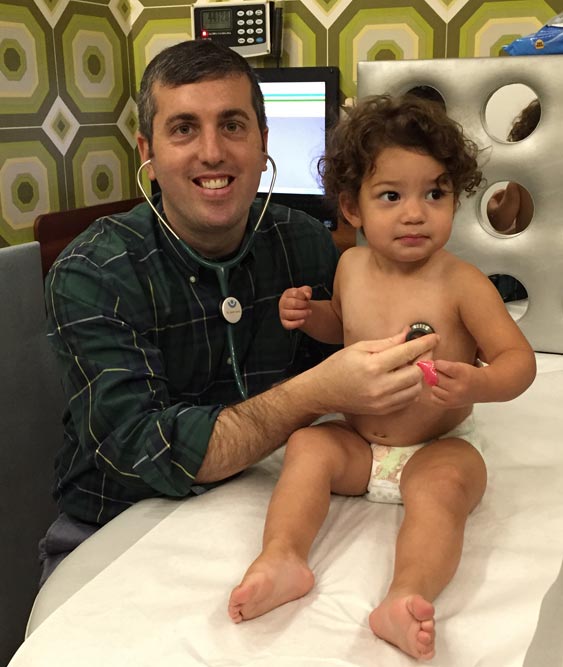 Adam Zaentz, MD
-Undergraduate: University of Southern California, Los Angeles, CA
-Medical School: American University of the Caribbean, Cupecoy, St. Maarten
-Residency: Maimonides Infants and Children's Hospital, Brooklyn, NY
-Second Language: Spanish

Q & A with Dr. Adam Zaentz

How did you get into pediatrics?
I always knew I wanted to be a doctor. Having a brother who is ten years younger than I, and coaching kids soccer and tennis camps as a high school and college student, made me realize that pediatrics was my calling.

Where did you grow up?
I grew up in the San Francisco Bay Area.

Where do you live?
I live in Williamsburg, Brooklyn.

What do you enjoy most about working in your neighborhood office?
As a member of the community, I love having the opportunity to watch my patients and families grow and thrive.

What keeps you motivated?
Having the chance to provide anticipatory guidance to my patients and families is one of the most satisfying aspects of my job. So many adults are impacted by preventable diseases, and it is incredibly fulfilling to be able to guide my patients and their families to form healthy habits that will keep them healthy and happy throughout their lives.

What do you do for fun?
Keeping up with my children, Chloe and Ben, enjoying neighborhood parks and restaurants. I also love watching and playing sports, especially participating in a competitive soccer league, playing tennis with my wife, and rooting for USC football and my Bay Area sports teams.