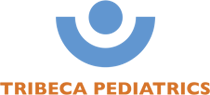 The Best Games for Family Game Night
| | | | |
| --- | --- | --- | --- |
| By Olivia Cuartero-Briggs, December 20, 2018 | | Tweet | |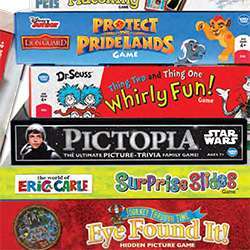 We all know that board games are fun, but did you know that playing games as a family is actually good for you? Channeling your attention into an entertaining, competitive enterprise can lower stress and increase focus for parents, as well as strengthening the bonds with their kids. For children of any age, playing games as a family can improve communication and social skills, boost self confidence, aid in academic performance, and enhance problem solving abilities. All that on top of the fact that you're building family traditions, and as corny as it sounds, memories that will last a lifetime.
While many of the classic games we grew up with still hold up, there's a brave new world of games out there to explore. So, this month, we've decided to dedicate our newsletter to finding you the best new games on the market for your next awesome, family game night.
Games For Families with Kids Ages 3 and Up:
Pictopia – They don't call this the ultimate picture-trivia game for nothing! If you and your little ones are big-time Disney fans, this game should be a hit. The rules and setup are super simple, and an entire four-person game can be played in under an hour. The best part? You only need two people to play, so even if it's just you and your kiddo for a night, Pictopia will keep you guys entertained.
Suspend – This game is another brilliant creation from Melissa & Doug that appeals to kids of any age. The game comes in a can, and consists of a handful of notched, color coded metal sticks that each player must use to build a balanced, suspended structure. Similar in some ways to Pick-Up-Sticks or Jenga, this game is super simple, easy to learn, and lots of fun to play.
Tell Me a Story – This awesome little game consists of various decks of cards, all containing different, colorful pictures. Players shuffle the cards, speak the magical words, "Once Upon A Time…" and then take turns adding to the story by drawing cards and interpreting their meaning any way their heart desires. This game is super entertaining, especially for parents to hear what their kids come up with, and a great way to encourage narrative skills and imagination. If you feel up to it, transcribe the story for some fun bedtime reading later on.

Games For Families with Kids Ages 8 and Up:
Speak Out – If you haven't heard of this game yet, you are in for a serious treat. The rules are super simple. You put a large, adjustable piece of plastic in your mouth, and then draw a card with a specific phrase on it. With as much clarity as you can muster, you must get your partner to guess the phrase on the card correctly before moving on to the next. Not only is it totally hilarious to watch your kids, spouse, or other family members try to talk with their teeth bared, like Jim Carrey in The Mask, but Speak Out makes for a fun, high-energy game playing experience you'll be excited to return to. The rules say it takes 4 players, but if you're a family of 3, you can fudge the rules a bit and still have a great time. The box advertises the game for ages 16 and up, but there's also a Speak Out Kids vs Parents edition for younger children, as long as they can read.
Telestrations – This game is the perfect blend of Telephone and Pictionary, and perfect for big gatherings. The more the merrier! And if you happen to have some younger kids in the crowd who aren't of reading age, no problem, just pair them up with an adult as a teammate. The rules are super simple. Each player chooses a card with a phrase on it, then sketches a visual interpretation of the phrase, and passes that to the next player. That player must then write down what he thinks the phrase is based on the picture, and pass that on. On and on it goes until the end, when you get to see how far from the original phrase your family has traveled. This is not set up to be a competitive game, but just some good, clean fun for all.
Pandemic – This game is particularly noteworthy because you play not against one another, but as a family. You either all win, or you all lose. This is not to say the game isn't competitive, it is, it's just all of you competing together against the game itself. How's that for family bonding? Pandemic is a super fun game with loads of suspense, strategy, and role playing, and can be played with two or more people. It also has settings, from easy to difficult, so you can work your way up. With five-star ratings across the board, Pandemic is definitely a game worth checking out.

Games for Families with Kids Ages 12 and Up:
Betrayal at House on the Hill – This is a perfect game for the scary movie fans in your home, and boasts of thousands of five-star reviews from Amazon to Board Game Geek. House on the Hill is a role playing game in which you and your friends explore "the creepy old place on the hill". Throughout a series of frightening misadventures, one member of the group betrays the others by turning on them, and then it's up to the others to stop them before their frightening task is complete. This game is designed for 3 to 6 players, and can last anywhere from 30 to 90 minutes.
So, with the winter weather here, get in your comfies, break out the popcorn, and play it up, families! And know that all the fun you're having is good for all of you, mind, body and soul.