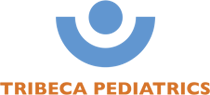 There is Such a Thing as Good Screen Time
| | | | |
| --- | --- | --- | --- |
| By Olivia Cuartero-Briggs, July 11, 2019 | | Tweet | |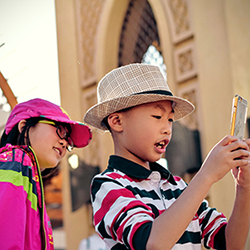 In today's technological age, tablet and app explosion has revolutionized interactive entertainment, learning, and screen time entirely. With parental guidance and moderation, there is such a thing as good screen time for children over the age of 18 months, and this month, we're here to guide you toward some great options for your little ones.
Concerns About Screen Time
Let's get one thing out of the way right now. "Screen time" does not refer to social media. That's a whole beast unto itself. "Screen time", for the purposes of this newsletter, refers to movies, TV shows, and apps your kids watch and interact with.
The concern used to be that babies and children who watched too much TV slept less, had trouble concentrating, and suffered from something called "overstimulation". To be clear, "overstimulation" is characterized by crankiness, crying, and avoiding eye contact when upset. I think most parents would agree it is very difficult to separate these apparent symptoms from ordinary baby behavior. If, however, you feel your child is consuming too much media and is exhibiting some or any of these symptoms, you may want to cut back and introduce some other activities into your child's repertoire. If this is not a concern in your household, let's get into some of the benefits of screen time.
Benefits of Screen Time
Learning to Use Technology – Technology isn't going anywhere any time soon, and many child experts agree it is very beneficial for children to learn to use computers, tablets, and what-have-you at a young age. Not only will they be fluent and tech savvy heading into their school years, but (and this is where you come in) they will have a much greater sense of responsibility and respect for screen time on the whole. The ages of 2-5 are a great time to teach your child which types of shows and apps are fun, educational, and appropriate for them, as well as setting healthy limits on what they consume and how they consume it.
Language Building – Certain shows and apps are fantastic for building vocabulary, early literacy, as well as learning a foreign language. Many of the animated shows you can find on Netflix and Amazon Prime have options to change the spoken language to Spanish, French, Mandarin, and so on. So if you've always dreamed of a bilingual offspring, foreign language programs are a great tool.
Education – One good thing about the screen time fears of the past decade is that programmers have had to pull out all the stops when it comes to shows and apps for kids. There are a host of fantastic programs and apps out there now that teach kids everything from early math to space exploration, in an interactive, and engaging way. Gone are the times of boring old School House Rock. Now there are shows chock full of great information that your kids actually want to watch.
You Can Get Stuff Done – And, of course, while your child's attention is focused on the coolest new LeapFrog app, you are free to do what you have to do to keep your busy lives on track. Particularly if you have an only child, you know how important and stress-reducing this time can be, which is good for you and your little one.
Recommendations
Many of the online platforms offer fantastic learning programs for kids, and your app store is full of great games that help your child improve on anything from fine motor skills and memorization to calculus. There's a ton out there, and sifting through it can be time-consuming, so here are some suggestions to get you started:
Netflix – By far the most laden with educational programming for kids, Netflix is home to Word Party, Super Why, Sid the Science Kid, Little Einsteins, Word Girl, and lots of great LeapFrog programs, such as Math Adventure to the Moon.
Hulu – If you're more of a Hulu subscriber than a Netflix buff, Hulu has Charlie and the Numbers, Guess with Jess, Little Pim Language Series, Look Around You, and Kids in the Garden, just to name a few good ones.
Amazon Prime – And if you love free shipping, you have access to shows like Daniel Tiger, Peg and Cat, Zeek's Animal World, Biz Kid$, Discover Science, and more.
Apps – Educational apps can be a bit more pricey, but for a couple bucks, you can get some great ones for your child, like Duolingo for foreign language learning, DragonBox for math, YouTube Kids, which allows children to navigate YouTube's fun and educational content in a safe and protected environment, Spelling Stage, Science 360, and Avokiddo and Moose Math for babies and toddlers.
While we parents still have to be cognizant of how much time our kids spend in front of screens, with so many great programming options out there now, we can rest assured that the time they do spend watching is worth their while.